Retropolis
"Ian's Retro Tiles-Retropolis " were especially designed for my city Retropolis . You should use them first on Retropolis ; otherwise you may have trouble making sense of some of the icons. (Some of these are not found in the normal set. Others are used in different places. Many are used in strange ways.) This tile site is intended for the construction of cities in SCURK.

Ian's Retro Tiles-Retropolis
Download .sit file for Macintosh (300K - complete set)
Download .mif.zip file for Windows(300K - complete set)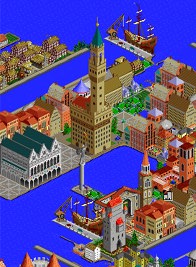 Half Gothic, half Venetian, Retropolis is a city that is doing its best to banish the evil automobile. The town's Venetian sector, scarcely above high tide, knows that CO2-belching cars are a major cause of global warming and the coming rise in sea levels. This little Venice has quite literally driven its motorists underground. Can you find them? And when will the Magus of Maxis give us a game that allows us to build a healthy city without all those ugly roads?
A high resolution view of Retropolis (1MB)
Another high resolution view of Retropolis (1MB)
Download Retropolis for Macintosh (57K)
Download Retropolis for Windows (43K)

Return to Download Index Page
Return to Ian's SimCity Home Page

Last Updated: 28.fe.06 WebMaster: Ian Mackenzie
© copyright 1997 Ian Mackenzie